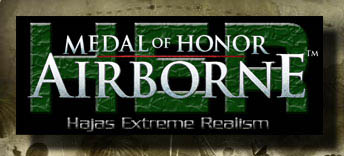 I'm a fan of Medal Of Honor series even before the release of the first one in 2001, I'm playing all versions since then but my all time favorite was to play Spearhead with MPSH3 Realism over many European servers.


HER Features - Mod DB

Just I started to play the MOHA Demo I figure out that I can't die in the Normal Mode, so I cancel the game and restart at Expert Mode but to my surprise, didn't changed much... first, I turned off that compass, that is more a radar than a compass... the game came with a cheat already.


HER Airborne 2.3 MP Features! - Mod DB

Ok, to kill an enemy I need to shot many times, which I really don't liked, sounds like Quake and not WWII anymore! Well, then I realize that is still difficult to die... then I with full health stayed in front a enemy with his rifle and let him shot me to see how many shots I'll need to die, then I only died after the 4th direct shot... wow! this isn't good! A so perfect game but so easy? I need to do something to make it right!



Ok, I finished the MOHA Demo and go to take a look on the scripts and start to study them, then came the idea to make the SP Demo seams like a MP game... a Spearhead MP game that I love to play and I'm still playing these days...



Then the work started... and I don't stopped until release the first version of HER in the next day.


---
Features:
. Multiplayer Support!
. No more Airdrop Protection! You can be killed in the Air!
. Well balanced and deadly weapons!
. Balanced and Fair game! You have the SAME health of your enemies!
. Stars Re-Balanced to Match with Realism
. If you was shot in the Arms or Legs, you will survive!
. If you was shot in the Torax, Back or Head, you are dead.
. Explosions improved! Stay away of nades and charges!
. Less amount of Granades and Ammo, the same to the packs on the floor.
. Press F1 to Remove all your HUD to make this even more realistic!
. Press F2 to Remove the Radar!
. Press F3 to Show the Radar!