| | |
| --- | --- |
| The Manager Brasil | |
This is the best ever football manager to any plataform available in the world, and still the best and very fun to play until these days aside the graphics are old.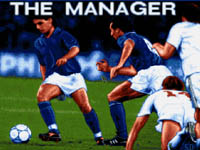 The original game had 4 full english divisions plus all european tournaments with teams from all over europe, which is already great to play, but I always want a game like that to play with brazilian teams, then was my main idea to make this MOD.

So how to convert an UK/European based game into a Brazil/South American one? For my luck both structures are the same, I only need to adapt in a smart way, here a table of the original and what become in my version.


Convertion Table
UK/European
Brazil/South American
FA CUP
Copa do Brasil
European Champions Cup
Super Copa
Cup Winner's Cup
Libertadores
UEFA Cup
Conmebol

With the main concept, let's start to work...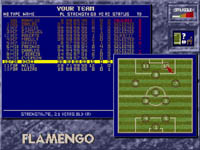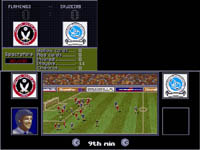 My first challenge was to coding everything in hexadecimal since no tools are available to MOD anything on that time, but since I'm doing this since MSX, wasn't that difficult to me. But my really work was in the research area, aside my first research made to Sensible Soccer PLUS was the start point to make this MOD, I'll need a lot more brazilian clubs this time, but the good part is that I'll not need the uniforms anymore.

Well, first I need to convert to brazilian teams all the 4 UK Divisions with 20 teams each plus 4 teams that start at any division WITH his recpectives players. This means 84 teams with more than 2500 players.




Ok, now I already have a lot of work but isn't the end, I'll need to get teams from all South America to fill all the other teams from Europe, to have the South American tournaments working. Now I have a lot more work to do, and in 1994 internet wasn't available over here aside restricted to universities, and was so much small in the rest of the world. So even if I get access I'll not find anything usefull on that time.

So to get all the information that I need was really very difficult, but from foreigner teams was really a hell! In the end I was filling the teams with player names that doesn't exist because was impossible to get info about the 2nd team of a 2nd division team in Peru per exemple. At least all club names are 100% right.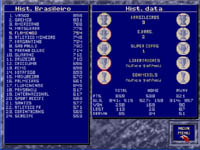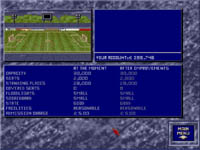 I remember that I follow the newspaper and the news on TV, and when a unknown team played I write his info fast on the paper to later add to the game, this was a slow process and I spent many months to finish. A problem that make me spent also many time was the lack of teams. In europe we have a lot more countries than in south america, so we have a lot more teams there than south american ever have... so comes a time that I already added all teams that I know, even the worst ever teams that I saw in my life, and still need teams to fill the game.

Then I don't had other option aside start to add Mexican clubs to the game. Funny that many years later the Mexican clubs started to play these tournaments too.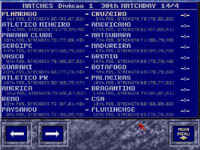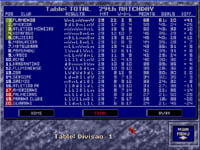 The result was really great and fun to play. All the screens that you see here are from a saved game that I played with Flamengo starting at 4th Division, and now I'm at the 1st Division and playing my 13th Season. This is a amazing game!


Just unzip into a folder then execute DISC1.EXE and answer Y to all questions. Now do the same with DISC2.EXE and the game will be installed.

Run BRA.EXE to play with my Brazilian MOD, or BMP.EXE to play the original game.

If you can't run this under your Windows, or is crashing all the time, try DOSBox, a great DOS Emulator, then will play without problems.