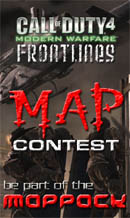 Are you a mapper? Want to have your maps released on the Frontlines MapPack?

Frontlines is searching for great maps to be released in his upcomming MapPack, which will be released on this site and in most famous gamming communities in the world, on sites and magazines... and all this for free!

If you want your name and work side by side with the mod that will change gamming FPS servers of the world forever, that's your chance!

Click here for more information.